Following the Silk-Road – from Kyrgyzstan to China for 6 days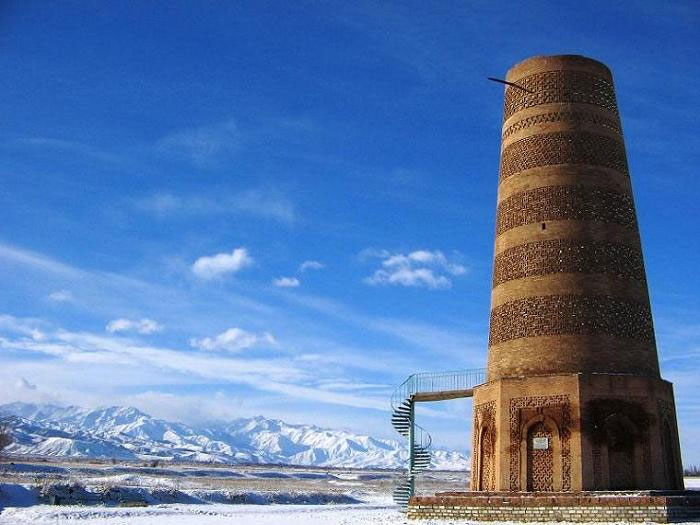 Silk-Road tours
Best Season:

Mid. June – mid. September

Duration:

6 days

Category:

combined – 4 days auto / 2 days optional medium-level trekking or horseback riding

Level of Difficulty:

medium

Group size:

any

Transport:

 Jeep or Minivan (2-6 pax); Minibus (6-12pax).

Requirements:

 Weatherproof warm clothes, trekking boots, hat, sleeping bag with mat, sunglasses and sunscreen
Day 1: Arrival at an airport. Pick-up and transfer to Bishkek. Hotel accommodation. Free time in Bishkek.
Day 2: Morning departure to Kochkor Village (Naryn region, about 3 hours). On the way, visit the Burana Tower architectural complex (10-11th century, an important point on the Great Silk Road), 15km from the main road. Lunch upon arrival in Kochkor. Afternoon — learn how "ala kiyiz" – Kyrgyz felt carpets — are made. Dinner, bed and breakfast at a CBT homestay.
Day 3: Morning departure to Kyzart Pass or Village (1.5 hours). Start the 2-day trek (or horseback ride) to the Song-Köl Lake ("The Final Lake"). Song-Köl is a mountain lake located in the Tian-Shan Mountain Range at an altitude of 3016m used by the shepherds from the Kochkor, Jumgal, Naryn and At-Bashy regions as a jailoo – a pasture during the summer months. It is considered to be the pearl of Kyrgyz jailoos. The road to Song-Köl winds through mountainous terrain until it seems to disappear into the very sky itself. This is probably why Song-Köl is translated from Kyrgyz as "the final lake". This day head to Kilemche Jailoo. The name means "like a carpet," and this swathe of grass covers whole mountain ranges, with shadings as subtle as any shyrdak (shyrdak is a Kyrgyz felt carpet). Lunch en-route. Dine and sleep in a yurt or tent. Trekking time: 5-6 hours (by horse: 4-5 hours)
Day 4: After breakfast at Kilemche, spend the morning climbing to the Jalgyz Karagai pass (3400m), over the Song-Köl Mountains and into the lake's basin. The morning climb affords wonderful views of Kilemche jailoo, and the pass itself is rocky and exciting. From the pass, Song-Köl is still distant, but as you trek down the slopes, it gets larger and larger; the mountains on the other side get higher and higher until finally, the lake fills most of your field of view and the southern mountains tower above it. After lunch at Jaman Echki, follow the lakeshore east to the yurt at Batai Aral. Upon arrival meet your host family of Kyrgyz shepherds. Dine and sleep in a shepherd's yurt. Trekking time: 5-6 hours. (By horse: 4-5 hours)
Day 5: Spend the day enjoying refreshing and well-earned rest at the lakeside. Watching and/or participation in everyday life of shepherds: milking mares; making traditional Kyrgyz milk products like kymyz (a fermented mare's milk) or airan (a sour dense milk product); tending cattle. Eat a delicious lunch here, stroll along the lakeshore, and hope the legendary Song-Kol weather is kind. Afternoon transfer to Naryn (3 hours). Arrival in Naryn, dinner, bed and breakfast at a CBT homestay.
Day 6: Morning departure to Tash-Rabat caravanserai (12th-13th century) (3-hour drive). Meet your host family, lunch upon arrival. Take a walk around and visit the caravanserai. Dinner and overnight stay in a yurt camp.
Day 7: Early morning drive from Tash-Rabat to the Torugart Pass, 2.5 hours. Cross the Kyrgyz-Chinese border. The Chinese will transfer you from Torugart to Kashgar.
— Burana Tower (10-11th centuries);
— Song-Köl (Son-Kol) lake, mountain lake on 3016 m;
— Tash-Rabat Caravan Serai (12-13th centuries).
Accommodation:
2 nights CBT home stays
3 nights CBT yurt stays
1 night in Hotel in Bishkek is NOT included
Included meals:
5 Breakfasts
5 Lunches
5 Dinners